North Georgia's Newest Business Directory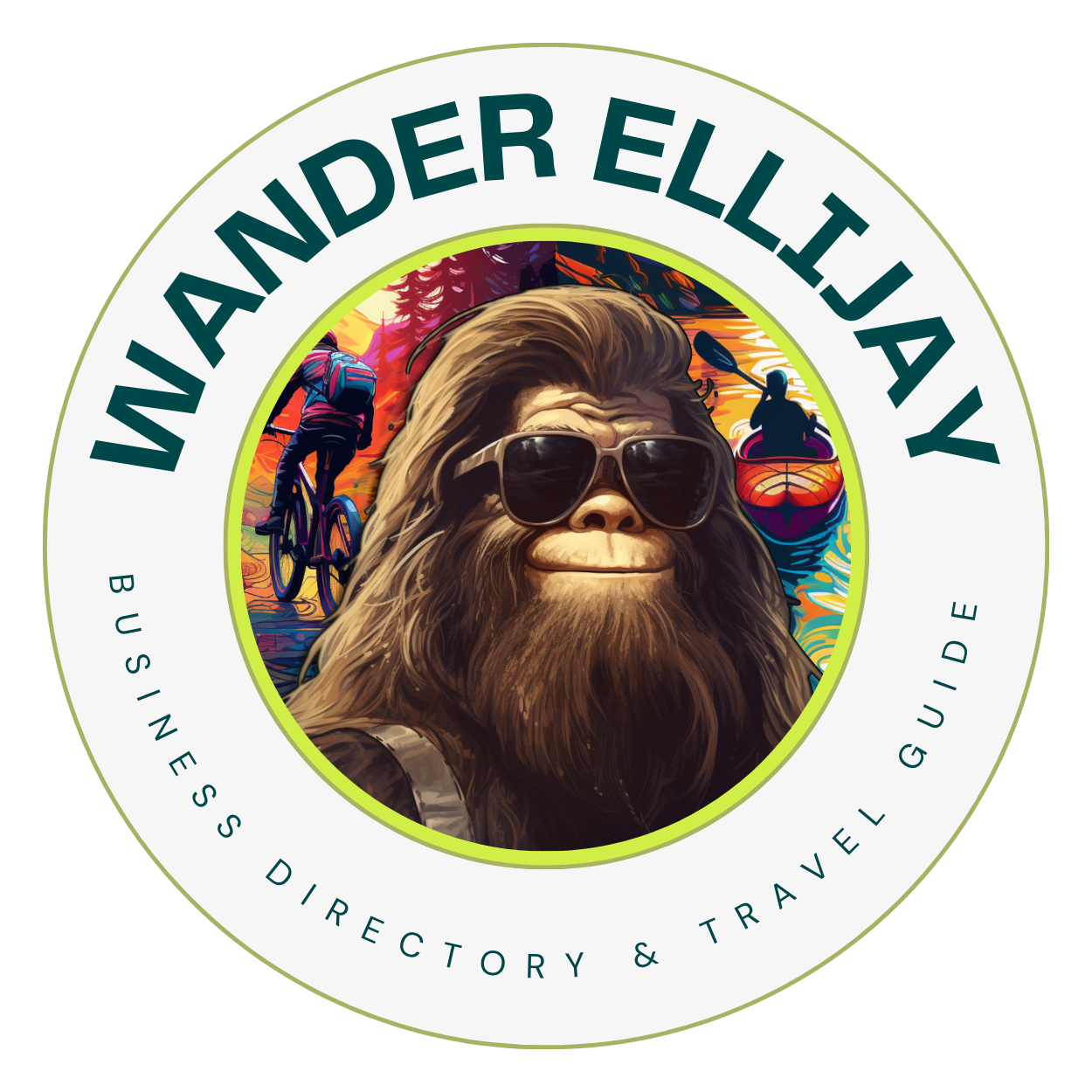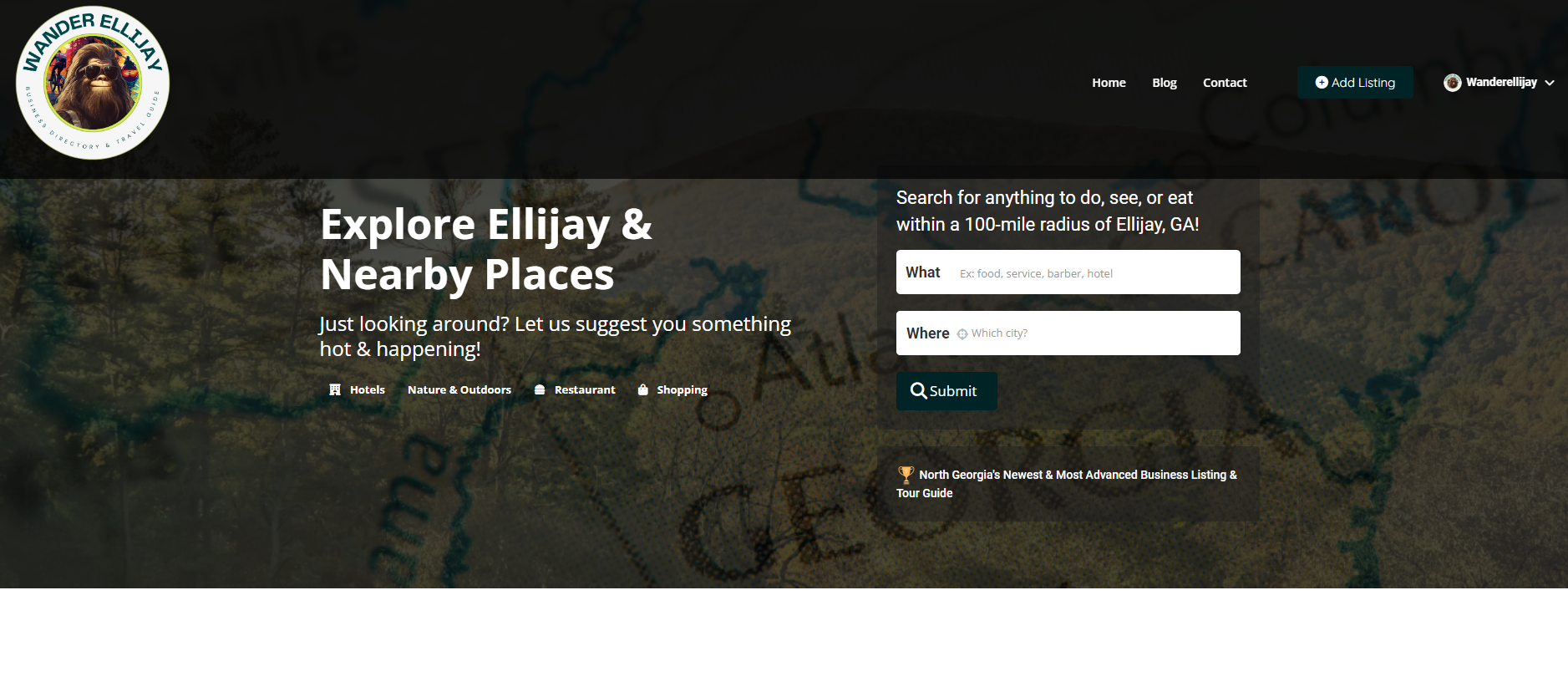 What do you get with Wander Ellijay?
Elevated Visibility: Wander Ellijay ensures businesses are prominently showcased, making them more visible to the Ellijay community and potential customers.
Optimized Presence: Being on Wander Ellijay can enhance a business's online presence, increasing the likelihood of appearing on top search results.
Credibility Boost: With the opportunity for reviews on Wander Ellijay, positive feedback can significantly enhance a business's reputation and trustworthiness.
Affordable Promotion: Wander Ellijay provides a cost-effective platform for businesses to promote themselves, offering more value than many other marketing avenues.
Drive More Traffic: Listing with Wander Ellijay can increase foot traffic to physical locations and drive more visitors to business websites.
Engage the Community: Wander Ellijay's interactive features allow businesses to engage with customers, respond to reviews, and build stronger relationships.
Comprehensive Business Details: Wander Ellijay listings provide essential business information, making it convenient for customers to connect.
Mobile-Friendly: With many users accessing Wander Ellijay on mobile devices, businesses are assured of visibility on all platforms.
Stay Ahead of Competitors: A well-presented listing on Wander Ellijay gives businesses a competitive advantage in the Ellijay market.
Become Part of Ellijay's Fabric: Listing on Wander Ellijay integrates businesses into the heart of the Ellijay community.
Showcase Special Offers: Wander Ellijay allows businesses to highlight promotions, events, and special deals, drawing more attention and customers.
Valuable Feedback: Through reviews and comments on Wander Ellijay, businesses can gain insights to further improve their offerings.
Support Local Economy: Being on Wander Ellijay encourages residents and visitors to support local businesses, fostering community growth.
Insightful Analytics: Wander Ellijay may offer analytics, providing businesses with valuable data on their listing's performance.
Build Local Connections: Being part of Wander Ellijay can open doors to collaborations and partnerships with other Ellijay businesses.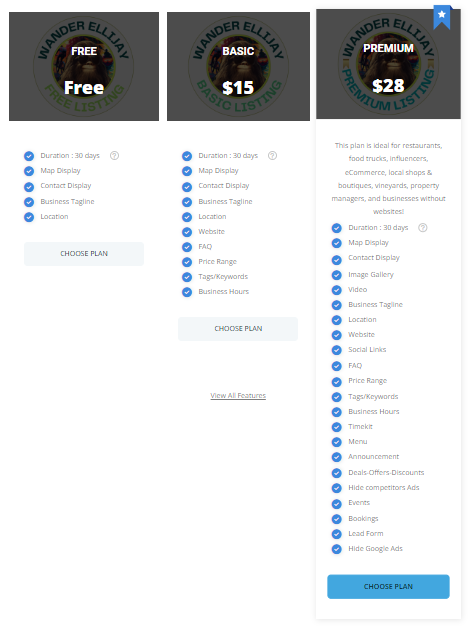 With our business listing, you gain access to an exclusive user dashboard packed with powerful tools—from insightful analytics and lead generation to review management and direct messaging. Announce your latest offers, create buzz-worthy events, share promotions, share your entire menu, and even run targeted ads, all from one central hub.
Think of it as having a second website, but with more advanced features and at a fraction of the cost. Don't just be listed; be seen, be engaged, and be ahead with Wander Ellijay.
PREMIUM
Enjoy the spotlight with vibrant images, engaging videos, an image gallery, and comprehensive business details from location to social links. Enhance your listing with Timekit integration, exclusive menus, special announcements, enticing deals, and event promotions. Plus, benefit from direct bookings, lead forms, and an ad-free experience by hiding competitor and Google ads. Elevate your brand to unparalleled heights with our all-inclusive package!